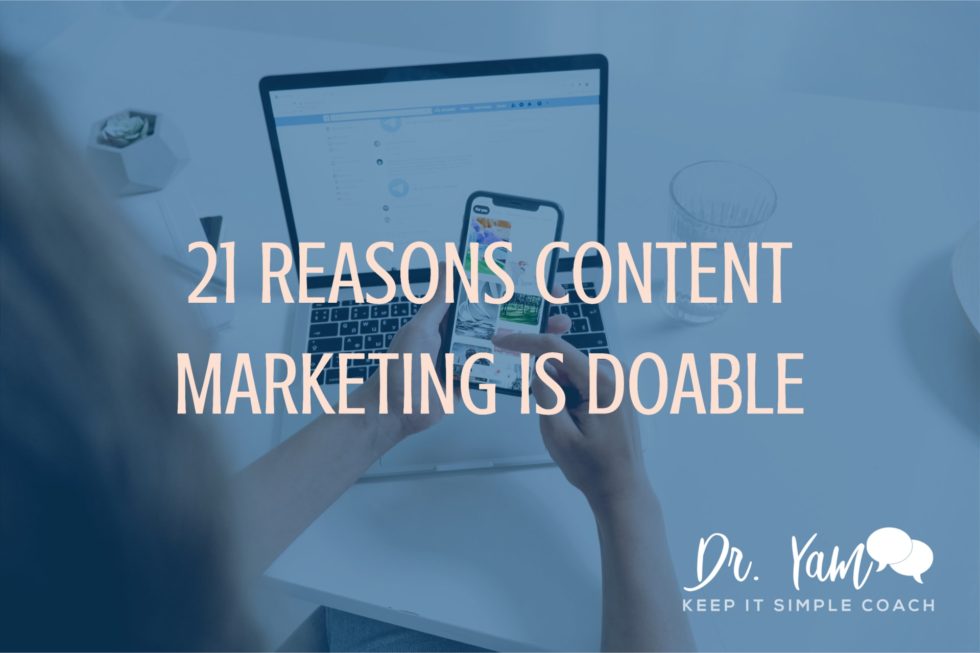 21 Reasons Content Marketing Isn't Hard
Ready to challenge yourself for content marketing?
Often time you see me offering up a good challenge to better yourself and or your business productivity. It is intended to take you out of your safe zone and stretch yourself. Now what is important to know is that I do practice what I preach.
I was all ready to rock and roll this summer for a Beach Retreat Event in Daytona but uhm well, that ain't gonna happen. In place of that event, the host didn't miss a beat and invited me to her challenge event.
Even though I think I have plenty already on my plate – one more thing just means I have more vision for my business. Therefore, today I'd like to share with you the challenge that I accepted from a fellow coach and friend, Kelly McCausey of Love People + Make Money. We have one key thing in common – we both believe in the power of content marketing!!
Content Marketing much? What? Not as often as you know you could be?
The content you create both attracts and serves people with who you want to do business, so when you drop that ball you are missing a lot of opportunities. Now here's where it gets interesting.
Unlike challenges that I've grown accustomed to hosting, Kelly has a great spin (she is so darn clever that Kelly) and I'm excited to participate for the first time. This is her 11th year anniversary! Let me give you the lay of the land and I'll reveal what I'm going to take on.
The Stretch Yourself Challenge (SYC) is a call to bust out of your comfort zone, do what you've never done before and tackle familiar projects in a bigger way in 30 days. It is a complete Content Marketing training with Twenty-One attention-getting activities to choose from.
Challenge #1: Set Up Google Analytics Reporting (NEW in 2020)
Challenge #2: Share Your Expertise & Promote It Like Crazy!
Challenge #3: Create A Collaborative Blog Post (NEW in 2020)
Challenge #4: Tackle A Dedicated Affiliate Promotion (NEW in 2020)
Challenge #5: Tackle A Content Refresh (NEW in 2020)
Challenge #6: Hold a Webinar or Teleseminar To Grow Your List
Challenge #7: Host a Facebook Live Series
Challenge #8: Offer & Host A Group Coaching Intensive
Challenge #9: Create a Small & Mighty Gift Report
Challenge #10: Make an Intentional Connection
Challenge #11: Start A Facebook Group
Challenge #12: Gather & Publish Testimonials
Challenge #13: Host A One Day Virtual Summit
Challenge #14: Choose A Live Event To Attend
Challenge #15: Volunteer/Apply To Speak Live
Challenge #16: Participate in a Bundle Sale or Giveaway
Challenge #17: Plan A Microcontinuity Membership Program
Challenge #18: Set Up A Tripwire Offer
Challenge #19: Start a YouTube Channel (NEW in 2019)
Challenge #20: Create A Tiktok Account & Post Three Times (NEW in 2020)
Challenge #21: Create A Twitch.TV Account & Stream Three Times (NEW in 2020)
Magic is made in this Challenge every year.
Kelly is brilliant at creating a space for everyone to stretch, grow and surprise even themselves.
When you say yes to the Challenge, you get access to a 150-page training guide, a vibrant community of challenges with live sessions for brainstorming and masterminding.
And the funniest part, you have an opportunity to compete as part of a team, qualifying for a 'Finisher Prize' and ranking for extra achiever gifts.
Whether you feel drawn to competition or not, trust me, the team dynamic is powerful to motivate and encourage everyone. And a little push from your fellow biz peeps is a good thing.
It's right around the corner (starting September 1st) and I would love you to join in!
Get signed up here
https://bit.ly/dryamstretch2020
Ok, now that you've gotten all the juicy details, I'll let you in on my challenge choice…
Challenge #15 AND Challenge #19
That's right I'm doing two, duce, double, because I intent to finish 2020 strong. You see, you get to set your expectation – if you want to do 3 or more – go for it!.
Ok, there you have it, details and motivation. My thinking is you know you want to and you know you ought to, so just do it. Your business will be all the better for it. And most of all you are going to meet and network with some very very cool peeps, like me! (Well, I think I'm pretty darn cool
.)
See you September 1 if not sooner.