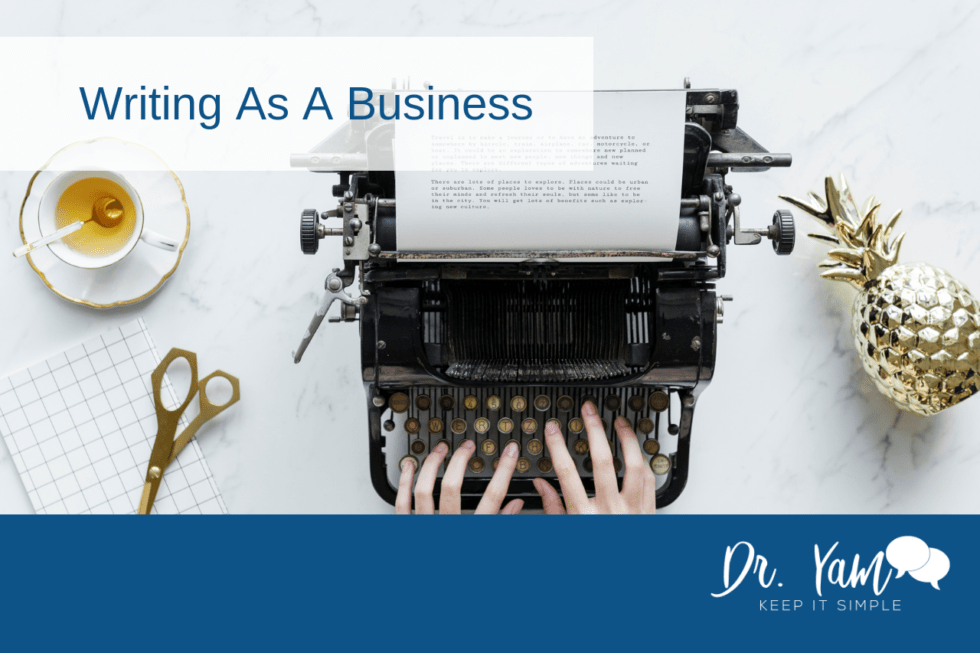 Make the Most of Your Writing Business with These 4 Tips
I have discovered that web writing can be a lucrative and fun career option. Most business owners like myself have now realized that having a web presence is necessary – whether you're a one-person business or a large corporation. And that content does not get there magically  –  somebody has to write it. I am stepping up my game. With that in mind, you can rest assure that this industry is here to stay. My business owners would love to have the help of a writer.
If you're an aspiring online writer or currently writing for a living, these success tips will help you make the most of your business.
Build your portfolio
It's likely that any potential client will want to view samples of your work. If you're just starting out, you can build your portfolio by taking on a couple of pro bono writing jobs. Don't look at this as though you're working for free, but instead see it as an investment in your future. Not only can you quickly build a portfolio but you may also be able to acquire a few references in the process.
Perfect your attitude
Get known for being the writer without a bad attitude. No offense – but having spoken to several folks it took them a while to meld well with their writer of choice because of personality and style. Your clients will be pleased to find a writer who gets the job done without the attitude that sometimes comes with other writers. Be friendly, polite and efficient and you'll quickly build a loyal following in this field. Let's face it; it takes time to build a relationship – particularly virtually. The more professional and friendly you and the client can remain, the more work you're likely to get.
Don't forget your marketing
It's all too easy to put marketing tasks aside as a writer (especially if you're very busy with current work). Every writer has to deal with the two stages of this industry – feast or famine (I consult in the K12 industry where we can have seasonal work a lot of the time). You'll go through periods where you have more work than you know what to do with and other periods where you can't seem to get any work at all. Make the famine periods easier to deal with by regularly putting out feelers. Spread the word that you're taking on new clients. Send out promotional letters, join marketing discussion forums and ask your current clients to refer you to their friends. Sweeten the deal for them by offering a discount on their work for every new client they send your way. This is a win/win situation for all involved.
Treat every client as though they are your only client
Take this one to heart. No one wants to feel they're the small fish in a big pond. Ensure that you spend enough time on each project and do the job each and every time as though this client is your only means of an income. Up your communication with them during your writing gig. This little strategy will help you stay at the top of your game and get you known as the go-to writer online.
Building up a great client base doesn't have to be difficult. The most difficulty you'll face is getting the first client. Once you have the client, remain professional and do a fantastic job each and every time. This way you'll quickly build a following.
And don't forget to regularly stay on top of your marketing efforts to ensure you have steady work throughout the year. If you don't have a tool to manager your content and social media, check out my article "Why This Editorial Calendar for Bloggers Makes Life Easy".
Have to found your niche? Not feeling prepared to start your writing business? 
I help ambitious go-getters to become profitable and successful entrepreneurs so that they can launch the small business they always dreamed of. I invite you to join my support and service group – The Small Biz Society. 
Also you can sign-up for my next 5 Days To Build Credibility and Visibility Challenge or enroll in my upcoming Dream Launcher's Journey masterclass events! 
Please share your thoughts and ideas directly in the comments. You never know how your words will connect with others that visit my site. Remember, being a business owner doesn't mean you have to do it alone:)