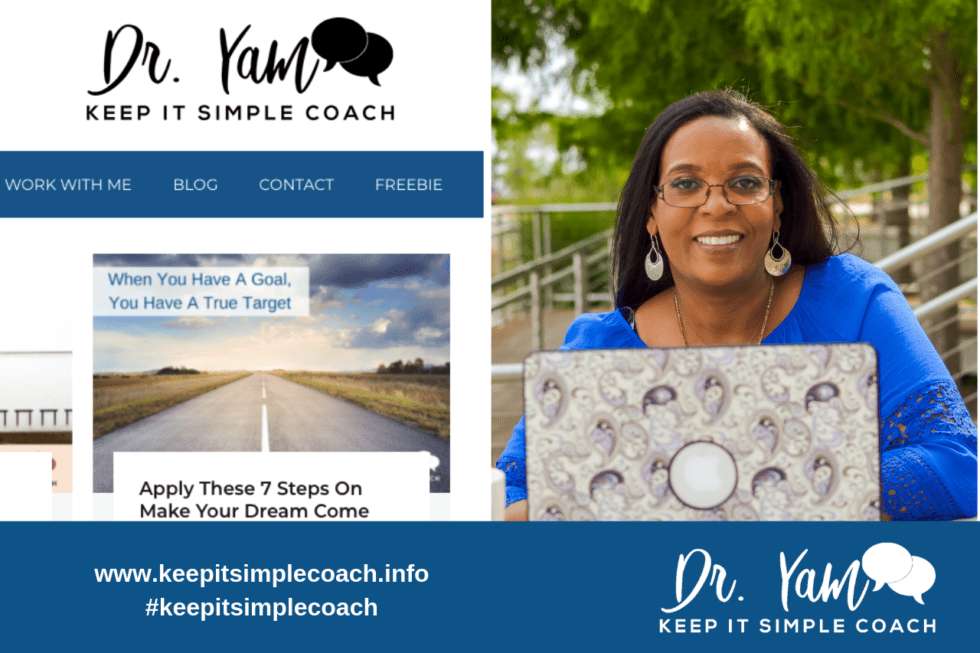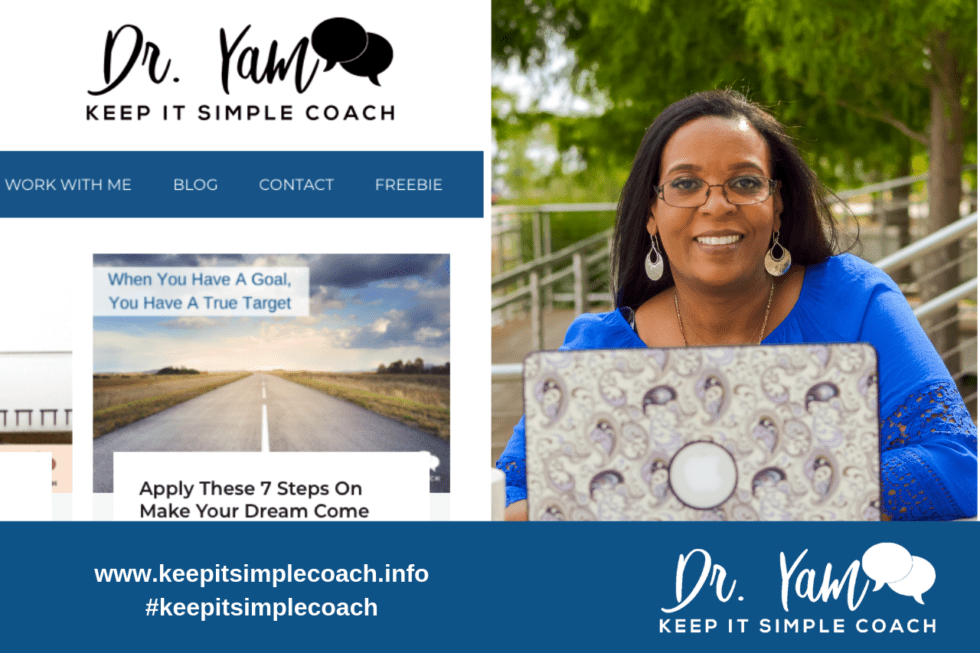 CoSchedule Makes Life Super Easy For This Soloprenuer
Last year I did what few new small business owners get a chance to do – be consistent.  You see I took the plunge to adopt a management tool, a coschedule, an editorial calendar, to assist me in my blog and promoting of my blog so that I could increase my reach and just do a better job on how I use my time.
What was I looking for?
The primary goal for me was to have a consistent message and presence for my brand – "Dr. Yam", Keep It Simple Coach and "Synergy Solutions Partners".
Discovering CoSchedule as my editorial calendar tool that could support my goal was now proof positive I made the right decision. I wanted a tool that could do three important factors:
Work with my WordPress site
Allowed me to manage an editorial calendar for my blogs so I could drop the spreadsheet concept
Help with social media posting
Lastly, amplify the Keep It Simple concept that I share with my clients and friends.
Because if you are a solopreneur like myself you do it all. Bookkeeping I use Quickbooks , animated videos Toonly, email marketing MailerLite, image editing and social media posts GetStencil, managing passwords and sharing access LastPass, membership site development Karta, outsource talent Fiverr, and creating interactive PDFs Designrr are a few.
This meant in some cases it didn't always go well. But this past year – It got done – and done nicely. And even though I was managing well by myself – I ended up adding a license to my editorial calendar so that my virtual assistant could join in on the fun.
What is CoSchedule?


CoSchedule allows me to build out my entire marketing strategy from one master calendar, collaborate with my virtual assistant and streamline my entire workflow aka "processes" in one place.  This includes my weekly blog, podcast events and social media posts to promote my blog and services so that can grow my tribe of aspiring entrepreneurs.   After working with it this past year,  I think I have it pretty much figured it out, and had gotten my groove. I can see how CoSchedule is becoming such a powerful marketing and editorial calendar and growing in popularity. Here is what the dashboard or what I like to call "grand central station" looks like.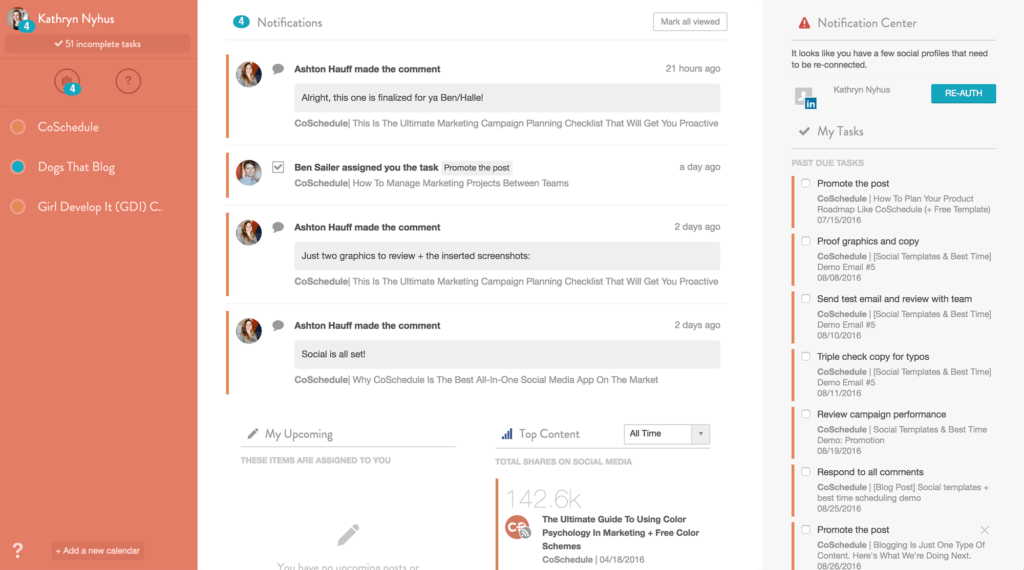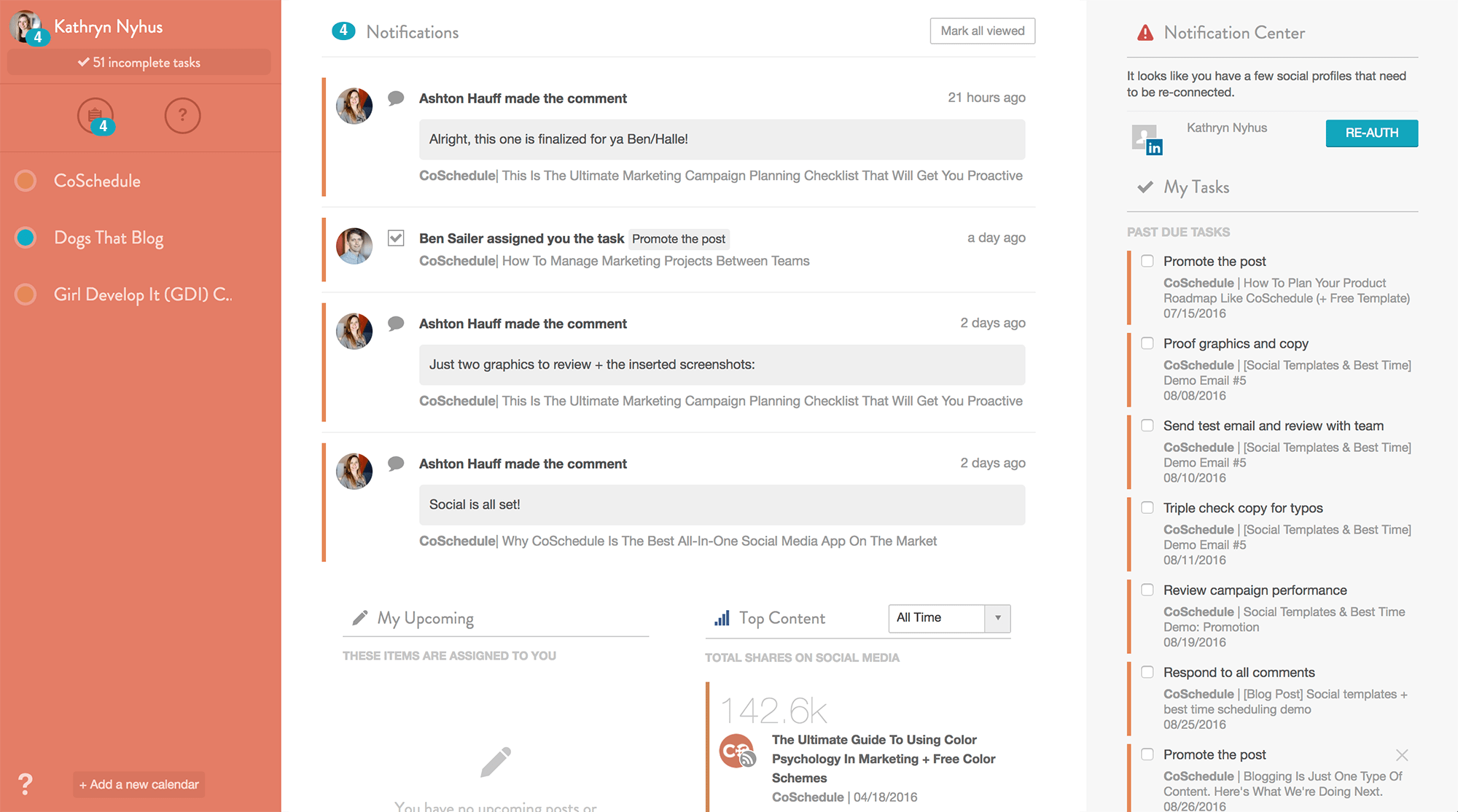 Integration with WordPress
When I decided to redesign my company website  a year ago using WordPress and BlueHost as my host site, I also committed to blogging. I recognized the power that blogging has as a means to marketing. I don't write for a living – but I have found that blogging is a great way to connect with potential and current clients. Being able to avoid using spreadsheets which I just could not wrap my head around managing my work.  And I don't begrudge those that do, but when I know there's better way I will find the way. This program really met my expectations.
There is a free WordPress plug-in that allows you to create or edit a post within my CoSchedule website account. Or from my WordPress account, I have the ability to access the CoSchedule. Which is really convenient when I don't have to jump between platforms to ensure my content is aligned to my calendar. And for those of you that have more than one site that you manager, CoSchedule allows your one license to be used on multiple sites. AWESOME SAUCE!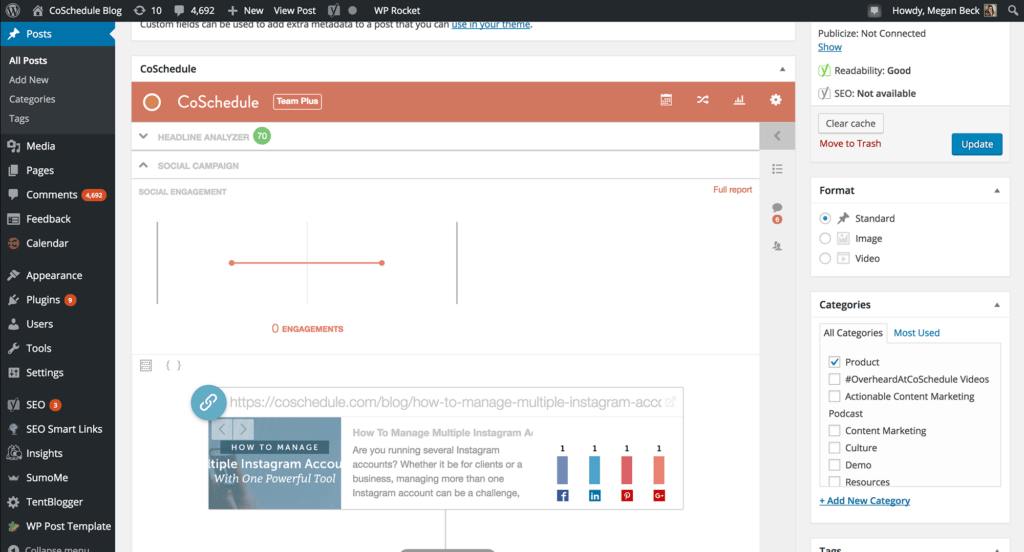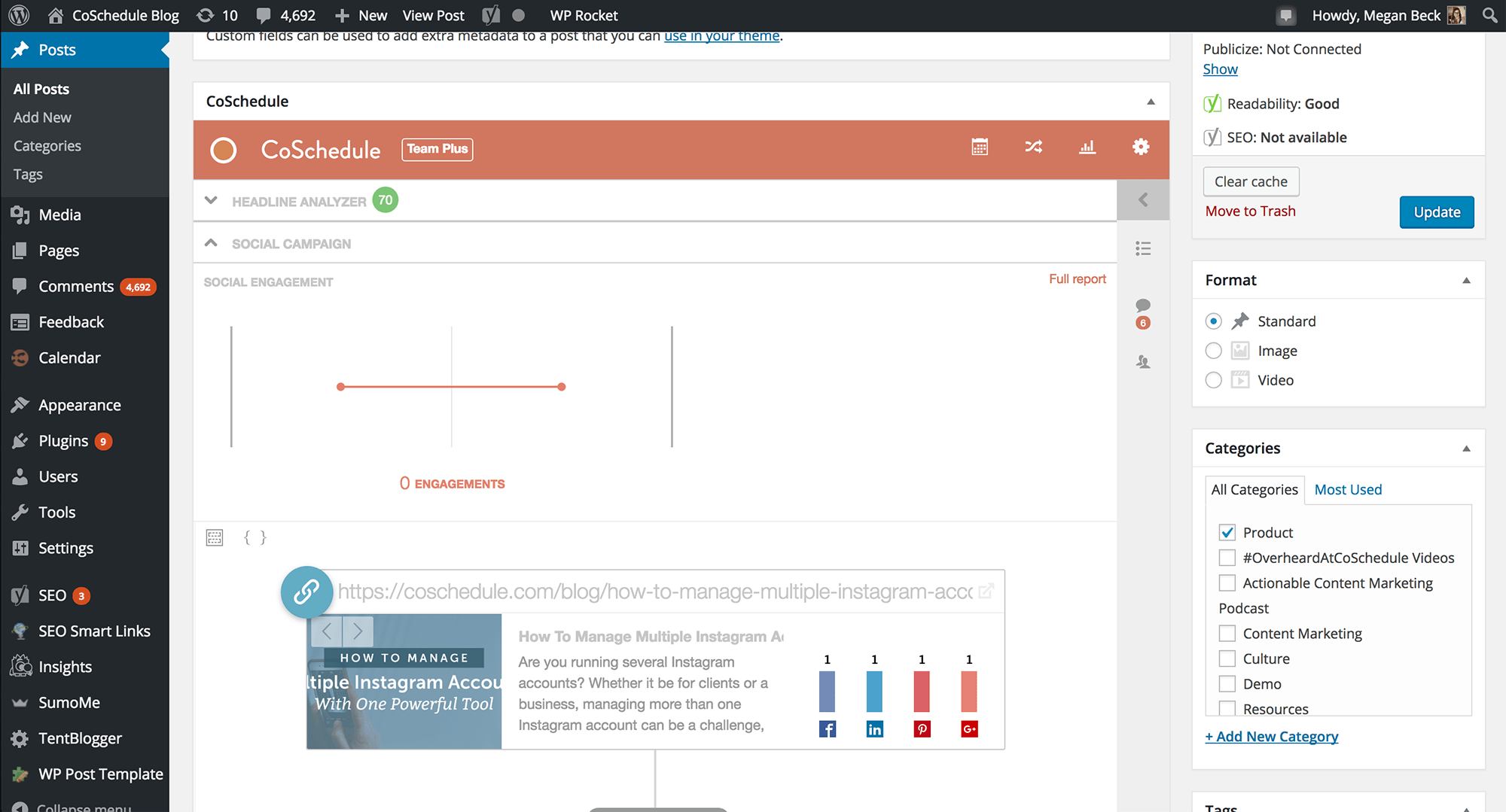 Manage an Editorial Calendar
I am a visual learner. Not to mention very time conscience. The calendar view feature is an answer to my prayer. I can take an afternoon and map out my topics for as far out as I choose. By having a month at a glance view, it gives me an opportunity to consider holidays and special dates that I can take advantage of as I prepare my content.
I can also just brain dump and not set a date to a post. This is very handy when an idea pops in my head and rather than jot it in my journal, I can simply add it to my "workboard" and schedule later. There is also a way to filter the published from the draft versions of a post.
While working with a virtual assistant I can create workflows and divide up tasks and the notifications let me know when its my time to review.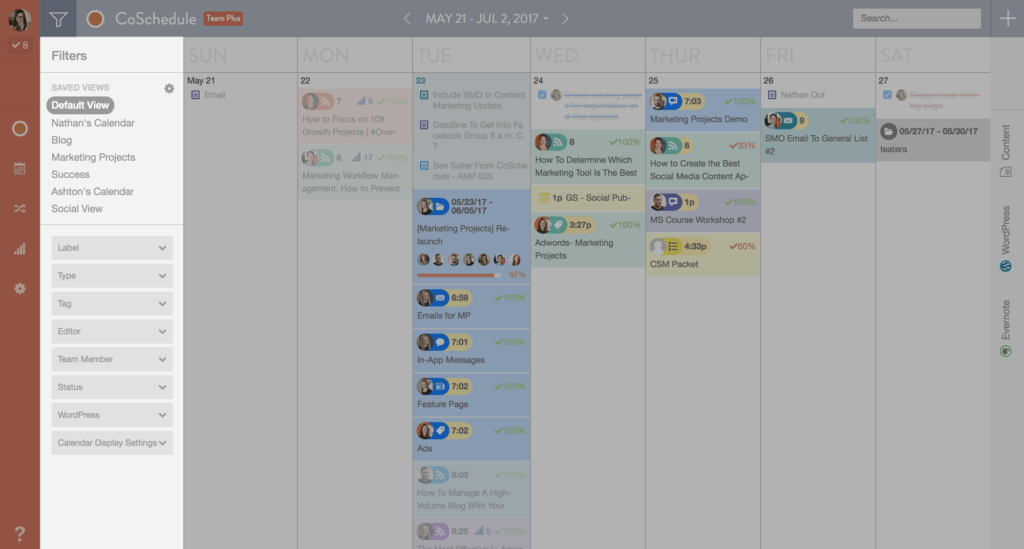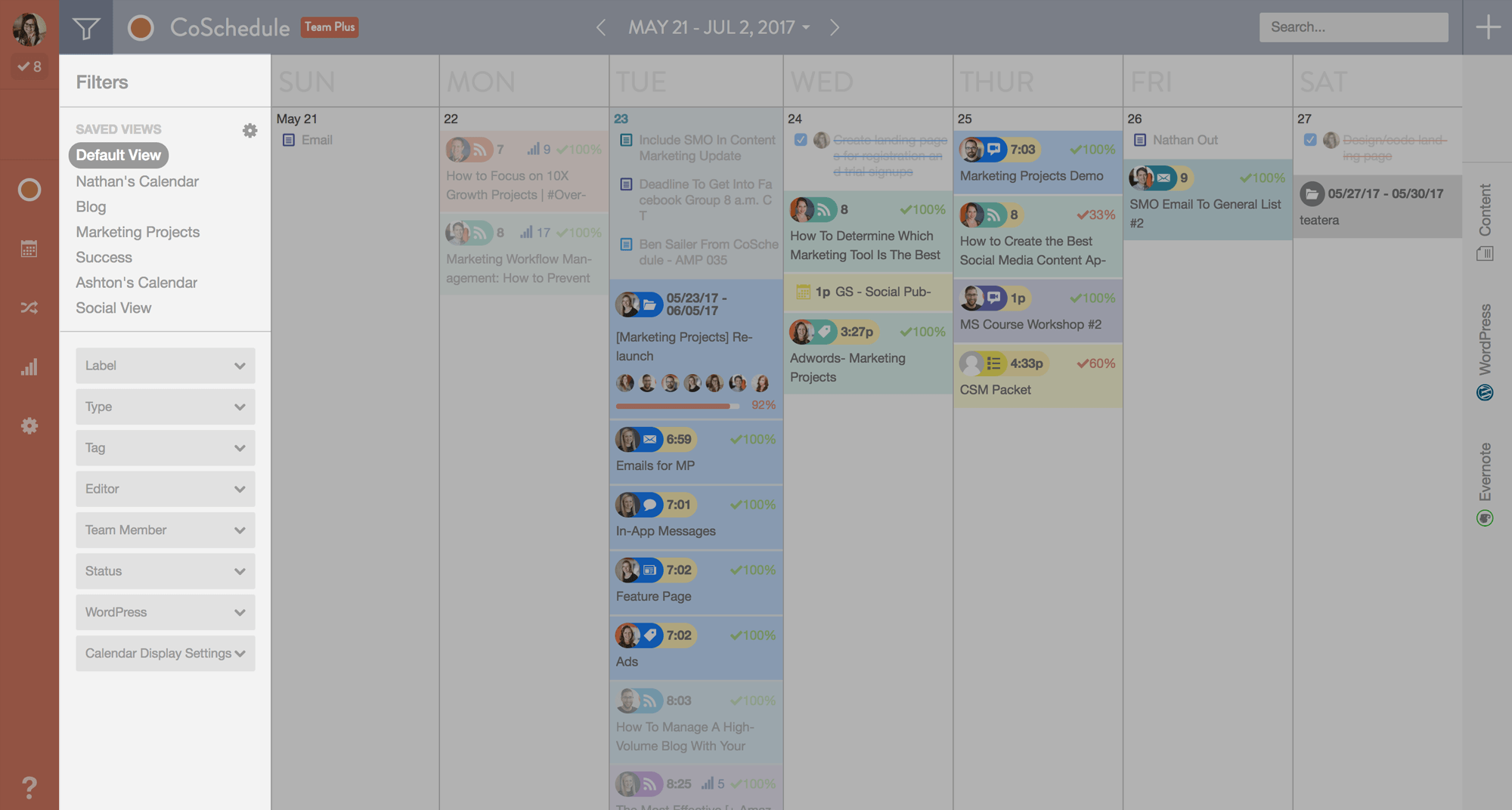 A huge bonus is they offer a headline analyzer. It scores how effective the blog title will be in gaining SEO traction. The goal is to create scannable digestible headlines with the right amount of words and characters. You can go from red to yellow to green 70%+. None of my post go out without a "green light". What I really like about this editorial calendar feature is it makes me rethink the title I thought was cute but probably to others, not so much so.
Help with Social Media posting
The super duper feature hands down is the social campaign feature. It allows you to create multiple social messages easily, up to 8 social media accounts (Twitter, Facebook, Facebook Groups, Instagram, Linkedin, Pinterest, Google+ . You connect the campaign to an individual post. And just like the blog, you can plan your post out ahead of time incorporating unique text, and by adding the permalink it will grab a title, excerpt, and all the images while still allowing for the all important hashtags. 
In addition, you can stagger the multiple messages for each social platform as far out as you like. My social campaign template is set for the day of my blog post, a week out, a month out, 45 days and 3 months. I give my VA the task to create the social images and a new hook sentence for the different dates.
Yes this past year has been busy, but at least I didn't have to worry about my blog and social media. I've gotten lots of feedback on both. In fact I had a friend ask how was I posting so much – and told him I got a secret weapon;)
I haven't used feature Reque yet, but will in the very near future. So as you can see – I have gone from taking the plunge to doing the backstroke
While I do enjoy my editorial calendar; here is my CoSchedule small wishlist –
love to have an image editor like Canva or GetStencil embedded so I can stay in same window (call me biz lazy).
due to some recent changes with MailChimp I moved over to MailerLite so if you could work on that integration I would love ya more (and no I don't use Zapier).
In the meantime -If you are like where I was a year ago – give CoSchedule a try for 14 days and see for yourself. I'd love to hear your about your experience.
If you have a biz idea and want to make the shift from your 9-5 to soloprenuer visit The Busy 9 to 5ers Hive, And if you have already launched your biz and want to lead and grow it, I invite you to join my support and service group – The Small Biz Society.
Please share your thoughts and ideas directly in the comments. You never know how your words will connect with others that visit my site. Remember, being a business owner doesn't mean you have to do it alone:)


P.S. Don't forget to grab my FREE 5 SIMPLE Blocks For Starting A Business Report